J-Pole Antennas for 2 Meters
By: Dr. Carl O. Jelinek N6VNG
This paper describes two types of 2 meter J-Pole antennas, one made of copper pipe and a roll-up J-pole made of TV twin lead. The figures give the details of the dimensions, components and construction.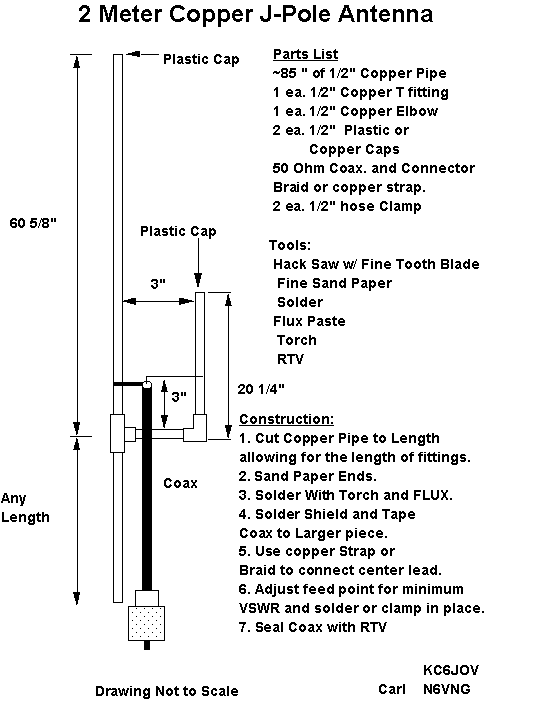 I hope you enjoy these as much as I have. The Roll-Up J-Pole has been in my case on many trips for the company. Its great to contact the local hams from the Motel room to find out what is going on. One night I found a great swap meet in Huntsville AL.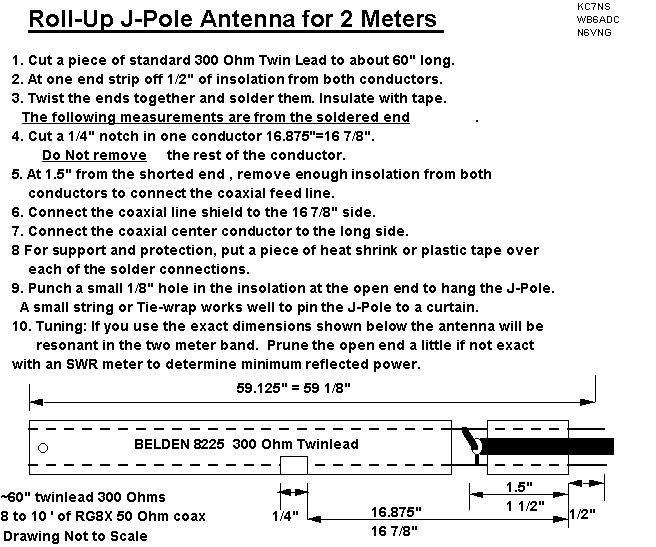 Table 1. Scaling for other frequencies.
J-Pole Scaling

JPOLESCL.xls

Dr. Carl O. Jelinek
2/28/96 20:26
Roll-up J-Pole
Frequency {MHz}

147

223

440

28.4

Total Length {in.}

59.125

38.975

19.753

306.034

To Notch {in.}

16.875

11.124

5.638

87.346

Stub {in.}

1.5

0.989

0.501

7.764

Copper J-Pole
Frequency {MHz}

146

223

440

28.2

Total Length {in.}

60.625

39.692

20.116

313.874

To Notch {in.}

20.25

13.258

6.719

104.84

Stub {in.}

3

1.964

0.995

15.532

Spacing {in.}

3

1.964

0.995

15.532
Frequency: in MHz




73 de Carl N6VNG.

To get this aritcle and Excel spreadsheet download the following zip file jpole_calculations